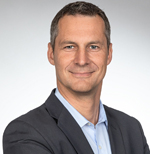 By Daniel Krisch
With more than 8,100 hotels operating in Canada today, hotel managers face a critical task in balancing the dynamic between providing a highly personalized guest experience for customers and offering them an array of self-service tools for an easier and more comfortable individual hotel experience.
Self-service applications for processing guests' hotel payments, start ahead of the booking process. Guests now rely on third-party tools like hotel review web sites, online travel agents and price aggregators that circumvent the traditional booking process and increase scrutiny on differentiation among offerings.
The desire for high-tech payment options continues for guests at the hotel and following their visits. Today's travellers want increased power to make purchases across hotel properties through familiar and easy mobile platforms—from the hotel's branded app to third-party payment apps—and expect the ability to contact staff for needs at their convenience and with minimal effort.
But guests' reliance on self-service and the increased demand for personalization has led hotel operators to express concerns about their future within this space, as more nimble competitors have quickly adopted this technology.
The facts and fears
We saw this anxiety firsthand in our 2019 Oracle Hospitality Benchmark Report where we polled 199 hotel operators, asking them about the current use of mobile technology within their organizations. From our findings, these top hoteliers expressed mixed feelings on their mobile capabilities, prioritizing the area within their businesses, but harbouring concerns about keeping up within a growing industry. Specifically, 91 per cent agree that mobile is critical to improving guest experience and cultivating loyal customers and 66 per cent believe mobile implementations can reduce operating costs. However, 50 per cent alarmingly feel that their company is not investing in the necessary technology quickly enough.
This slow adoption of mobile technologies reinforces the need for immediate change, most significantly in improving and simplifying payment technology for customers. On a positive note, hotel executives have already acknowledged this need, with 90 per cent of respondents stating that the guest experience could be improved by enabling guests to use their smartphones to manage basic services like booking rooms and check-ins/check-outs. Respondents similarly expressed a desire to improve mobile capabilities for guests during their hotel stays both for the guest experience, but also for loyalty, with 50 per cent stating its importance for cultivating loyal customers.
This interest of improving mobile purchasing capabilities and cultivating loyalty programmes through mobile technology has major implications for the payment industry. It opens the door for more opportunities than ever before for mobile payment platforms to partner with hotels in their ongoing development of mobile apps and enhanced technology. Our survey demonstrates that respondents are open to accepting mobile payments and integrating these and other emerging payment platforms into their current technology. These same moves could go a long way toward calming their anxiety about their future in the mobile space.
First steps for faster payments
For starters, integrating a mobile payment platform into a hotel's app can be critical for those frequently travelling on the go, providing them with the ability to securely book and pay for a hotel at their fingertips within seconds. Similarly, by integrating technology within these same mobile applications that allows for checking in and out, hotels can further limit the time spent waiting in line for hotel confirmations and processing of bills following a stay. This in turn can help hoteliers receive payments faster and seamlessly: a win-win all around.
Build the bond by integrating loyalty
Additionally, integrating mobile payments within hotel loyalty programmes gives guests the ability to access everything they might need in one location and at the convenience of their phones. This also benefits hotels; they can sync their loyalty and point of sale (POS) systems in the cloud to uncover insights while cutting out paperwork. For example, many hotel loyalty programmes frequently offer perks for app users, which are helpful when trying to entice customers into joining and in building their affinity for the hotel or chain. This can be done seamlessly or even automated when the hotel's loyalty, POS and hospitality management systems are in lockstep in the cloud.
Say yes to mobile-enabled service
As well, further integration of mobile payments tools within a hotel's mobile offerings can benefit "tap-happy" customers looking for some R&R. With an app that puts everything in the palm of a guest's hand, it's easy for them to order beverages on their phone while poolside, without the hassle of carrying cash or payment cards. It also streamlines the order process, with orders going directly to the bar or kitchen, decreasing the chance of errors, minimizing service times and lessening the use of mobile POS terminals.
These and other means of integrating mobile payments offer an even greater level of accommodation for hotels' customers of tomorrow, (Generation Z, Millennials) who have adopted high levels of daily mobile engagement. Earning these guests' allegiance now will go towards keeping their loyalty in the long term.
Daniel Krisch is senior director, hospitality strategy, hotel and cruise solutions at Oracle Hospitality. (www.oracle.com/ca-en/industries/hospitality).