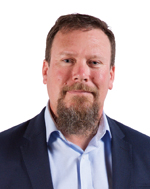 By Toby Holmes
The irreversible decline of mass transit has been predicted so often, it's surprising (and welcome) to hear some positive news about the sector. But non-private-vehicle transportation is having a renaissance. This is partly driven by the rise in popularity of rideshare apps across North America (and more recently bike share and electric scooters in some regions). But the positive knock-on effects are carrying over to the bus, ferry, rail (commuter, light, heavy) and general municipal transit industries.
Case in point: Canadians took more than 155 million trips on mass transit during January 20191. On a broader timescale, the proportion of Canadian commuters who drove to work in a private vehicle actually declined by 1.2 per cent between 1996 and 2016. And in Canada's three largest cities, less than 70 per cent of commuters commuted in a private vehicle2.
This is being reflected in systems like TransLink, in Metro Vancouver, B.C., which saw a record 437.4 million trips in 2018: a 7.1 per cent increase year-over-year from 2017 to 20183. Montreal, Quebec's transit system also saw its ridership increase by 2.3 per cent between 2016 and 20174.
There are similar upward trends in the United States. In a March 2018 report, the Congressional Research Service disclosed that mass transit ridership across the U.S. had risen by about three per cent over the past decade5. And the American Public Transit Association (APTA) found that in the 20-year period from 1997-2017, public transportation ridership actually grew 21 per cent, faster than the rate of population growth at 19 per cent6.
The question remains whether this growth is sustainable. And whether—like TransLink—ridership increases owe more to external factors than to transit agencies' abilities to attract and retain new riders and create streamlined, easy journeys for their passengers.
Transit agencies and operators can take a big step toward sustaining these recent gains in ridership by modernizing their payment processes. This is a low-hanging fruit opportunity and one that is easier (and faster) to implement than traditional IT deployments and transit service expansions and improvements. But unfortunately, it's also one many operators and agencies in North America have lagged behind on.
Digital and mobile payments needed
Consumers around the world have been conditioned, primarily by e-commerce giants, to expect convenient, seamless payments. Like Amazon's "one-click" purchasing, the "tap-and-go" simplicity of the Starbucks app and of course the real-time, mobile-integrated, location-aware payment process that Uber and Lyft (and their competitors) feature.
Mass transit payments, by contrast, are too often removed from the process of booking or boarding, rely on outmoded technology and add unnecessary complexity to riders' journeys. Even contactless payments have had only marginal effect7 (though, as this publication explored last year8, contactless technology does have potential in major Canadian metros; see TransLink's implementation of credit card tap-and-ride, the first Canadian transit agency to do so).
Too few transit agencies and operators are leveraging the digital and mobile channels to make payments easier. According to a recent report by CellPoint Mobile, Challenges Facing Municipal, Regional and National Transit Agencies in the United States only 30 per cent of providers currently collect fares through mobile apps. In fact, only 39 per cent of U.S. ground transportation providers have an app at all, and only 37 per cent can accept alternative payment methods or APMs.
One possible reason for this lag is that, according to the same report, a majority of fare collection and payment systems (44 per cent) are developed in-house, while a quarter (25 per cent) are implemented through contracts with third-party suppliers without a formal procurement process. It's not surprising then that 13 per cent of operators say implementing mobile technology is their single biggest organizational challenge, despite mobile's inherent flexibility and interoperability with other systems.
Mass transit operators are effectively "going it alone" with their payment and fare collection. And their passenger experience is suffering for it.
Serving mobile, multi-modal riders
So how can mass transit agencies operators make the payment, ticketing and overall journey more convenient for their riders, especially the increasingly multi-modal ones? And how can they meet the needs of their infrequent riders, like part-time workers, students and visitors and those who split their commutes between transit, driving and working from home? By offering a mobile app that eases the difficulties that riders experience.
That means offering digital and mobile technology that is on par with what's offered by ridesharing companies such as Uber and Lyft, if not Amazon and Starbucks. It means supporting a variety of mobile and digital payment methods, including popular global mobile wallets like Apple Pay and Google Pay, but also more specialized (but growing) payment methods like WeChat Pay. And it also means moving away from traditional kiosks and fare collection systems.
Digital and mobile payments also lay the groundwork for more seamless integration with other transit options—including ridesharing services—to better meet the needs of riders who may begin their journeys in a cab or Uber, connect with regional rail and finish on the local bus or subway. This is increasingly common, and some municipal transit agencies (like Edmonton, Alberta's9) have begun forging formal partnerships with third-party transportation services to meet this demand. A unified payment process across modes would create further convenience for travellers and commuters, potentially boosting ridership (sustainably) across the entire system.
The good news is that many regions are experiencing growth in ridership. But transit agencies in both Canada and the U.S. need to work to maintain this growth. And they need to pursue strategies that can help them bring in new riders, starting with implementing mobile and digital approaches to ticketing and payments.
Only by creating seamless, convenient journeys leveraging the technology their passengers are familiar with and prefer will they be able to sustain their passenger volume increases. And ensure their relevance in tomorrow's ground transportation environment.
Toby Holmes is vice president of sales for ground and sea for the U.S. for Cellpoint Mobile (www.cellpointmobile.com). Toby drives CellPoint Mobile's growth in the U.S. passenger transportation sector, targeting rail, ferry, bus, car hire, taxi and rideshare operations, as well as metro and regional transit systems.